INTERNSHIP PROGRAM TABLES
Date Program Tables Were Updated: 08/09/2018
Internship Program Admissions:
Applicants to the University of Arizona Doctoral Internship Program should be enrolled in a Ph.D. program in clinical (for ADULT and CHAD tracks) or school (for CHAD track) psychology at the time of application.
Theoretical background in psychology at the graduate level should include courses in abnormal psychology, developmental psychology, social psychology or cultural anthropology, biological bases of behavior, psychological assessment, psychotherapy, and professional and ethical standards in psychology.
The program does not have a minimum requirement of total direct contact intervention or assessment hours. During application reviews, the total number of hours is evaluated in terms of the nature of the applicants' experiences, settings, and supervision, and their overall fit to the track the applicant is applying to.
Preference is given to applicants from APA-accredited programs and with previous experience with and/or evidence of strong interest in serious mental illness or child/adolescent psychology.
Applicants should be aware that the internship sites are located in academic medical settings. While previous experience in medical settings is not a requirement, interns should be able to function in a multidisciplinary setting. 
Cultural diversity among accepted applicants is a priority. The University of Arizona is an EOE/AA employer and does not discriminate on the basis of age, sex, race, religion, national origin, veteran status, or handicapping condition in its admissions, employment, educational programs, or activities. Inquiries maybe referred to the Vice President for Academic Affairs and Affirmative Action Officer, The University of Arizona, Administration 510, Tucson, AZ 85721, or (520) 621-3081.
Applicants should be aware that after the internship program extends acceptance offers to prospective interns, their hire is contingent on a successful background check as required by The University of Arizona for employment. 
Financial and Other Benefit Support for Upcoming Year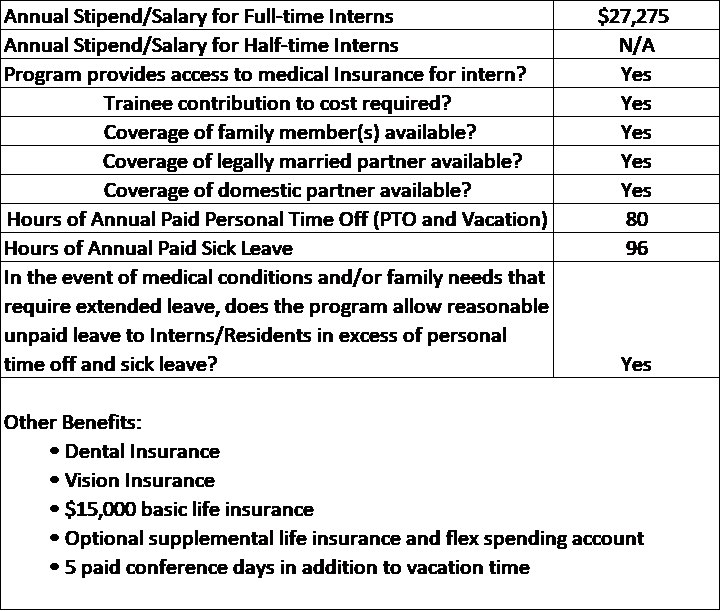 Initial Post-Internship Positions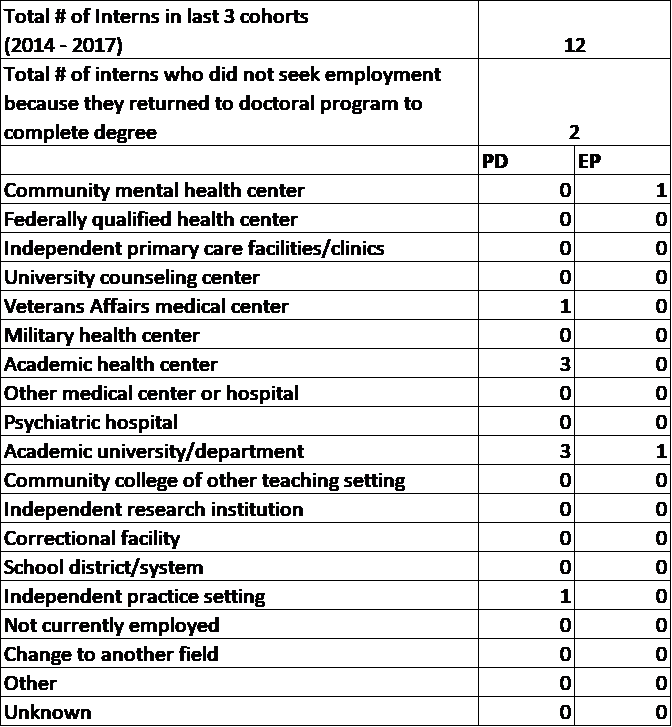 PD = post-doctoral residency position; EP = employed position.