Our department has more than 120 faculty, staff, and trainees. We are involved with numerous ongoing outreach programs, such as the:
NAMI of Southern Arizona
Mind-Body Medicine Program
Telemedicine to rural areas
Our Family Services
Mobile Meals
Tu Nidito
American Indian Youth Wellness Camp
Emerge!
Pima County Crime Victim's Compensation Board
Interfaith Community Services 
The Haven
Individually, our members are involved in professional organizations, including leadership positions, in groups such as:
Administrators in Academic Psychiatry
American Academy of Child and Adolescent Psychiatry
American Medical Women's Association
American Psychiatric Association
American Psychosocial Oncology Society
American Psychosomatic Society
Arizona Psychiatric Society
Arizona Psychologial Association
Arizona Society of Child and Adolescent Psychiatry
International Early Psychosis Association
NAMI Southern Arizona (NAMISA)
Society of Teachers of Family Medicine
Tourette Syndrome Association
West Coast College of Biological Psychiatry
Mobile Meals:
As a Department, we are grateful to Banner to allow us to provide financial support to Mobile Meals of Southern Arizona, because we are connected by the individuals we serve. Food insecurity is
a basic social determinant of health that impacts a large proportion of our community, even though we are one of the wealthiest nations in the world.  In addition to delivering medically tailored meals to homebound vulnerable adults, Mobile Meals volunteers provide daily contact to individuals who are socially isolated, a risk factor strongly associated with poor mental health.  Addressing these social determinants of health is inherent in our mission, as these impact overall mental health. Support for Mobile Meals demonstrates our commitment to this mission.
Nearly 100,000 specialized meals are delivered by over 350 volunteers each year to homebound adults who require specific diets (diabetic, renal, cardiac, etc.) to improve or maintain their health.
Support from Banner will go directly to meal preparation and delivery costs for low-income clients with both mental health disorders and chronic diseases. Click Here to learn more about Mobile Meals. 
Our Family Services: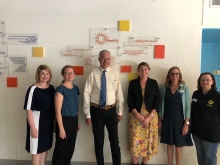 The Department of Psychiatry is grateful to Banner for the financial support of Our Family Services.  As part of their mission to eliminate homelessness and strengthen the community, Our Family provides a variety of services to homeless youth and families, in particular counseling services for those whose needs are not met by other systems in the community.  These services assist individuals in stabilizing their mental health issues, so they are able to lead healthier lives.
Our Family's Therapeutic Services offer in home or in office counseling for youth, young adults, parents and elders.  The counseling programs teach people new skills to pursue wellness and goals.  From marriage and family counseling to one-on-one sessions, Our Family counseling focuses on a variety of issues such as relationships, parenting, depression, end of life concerns, coping with mental illness, and living with disabilities.  Our Family also provides therapeutic services to families dealing with complex issues including substance use, trauma, family violence, and involvement with the legal system, Department of Child Safety, or Adult Protective Services.  Dating back to 1953, Our Family counseling is provided at no-cost to those who qualify.
Click Here to learn more about Our Family Services. 
2019 NAMI Walk:
Mental health problems are very common. One in five American adults and youth are affected, so someone you know and care about suffers from a mental illness. NAMI Southern Arizona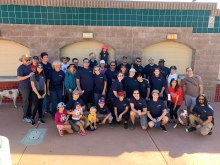 provides mental health advocacy, education and support to people in our community with mental illness and their loved ones. Mental illness is like any other disease, with proper care, it can be treated and managed, and recovery is possible.
We are grateful for everyone who joined our team and who helped us fundraise for this years walk. With contributions from the UA, Banner, and within our department, we raised over $10,000 to support NAMI. 
Click Here to learn more about NAMI of Southern Arizona.