Mental health includes our emotional, psychological, and social well-being. It affects how we think, feel and act as we cope with life. We seek mental health assistance for ourselves or our families; for relationship issues; for feeling consistently uncomfortable or on edge; for personal tragedy, depression; and many other reasons. Sometimes, behavioral concerns can affect everyday life, creating additional burdens, which can over time get worse without help. Your mental health is every bit as important as your physical health. There are ways to protect or improve your mental well-being, you just have to know where to start. We are here to help.
Banner - University Medical Center South (BUMCS): The Behavioral Health Pavilion, 2800 E. Ajo Way, Tucson, Arizona, 85713,  suite P3300.
To make an appointment, please call (520) 874-7520. 
Saira Kalia, MD
Assistant Professor of Psychiatry
Associate Program Director, Psychiatry Residency Program
Medical Director of Adult Outpatient Psychiatry Clinic
The Adult Psychiatry Outpatient Clinic of the Department of Psychiatry provides comprehensive outpatient mental health services by psychiatrists, psychologists, and trainees under supervision, such as consultation, evaluation, and treatment.        By using:
Individual Therapy
Crisis Intervention
Cognitive Behavioral Therapy for various disorders
Dialectical Behavior Therapy
Insight-oriented or Psychodynamic Therapies
Couples Therapy
Perinatal Psychiatric Evaluation and Management 
Group Therapy
Medication Management
Psychiatric Assessment and Evaluation                                                                                                                                                   
Neuropsych Testing
Integrative Approach when indicated
Resource Coordination
Presurgical Psychological Evaluations
Neurological Psychological Evaluations
Patients are typically seen on a weekly basis when in therapy, although the frequency of services may be altered to twice weekly or daily contact by phone or in-person for patients with a significant crisis warranting such contact.
Medication services are provided by psychiatrists or psychiatry residents under a faculty psychiatrist's supervision. 
For Spanish-only speaking patients, the client's right statement and the treatment consent form are available in Spanish. There are Spanish speaking psychiatrists at the clinic. 
Click Here for more information on our Behavioral Health Pain Clinic. 
Click Here for more information on our Psychological Assessments. 
Click Here for more information if you are a veteran or active military.
Please bring with you to your first appointment:
Picture ID
Insurance Card
Medication List
Referral or authorization (if you have one)
The clinic accepts most commercial insurance, please call to verify that your insurance is accepted. (520) 874-7520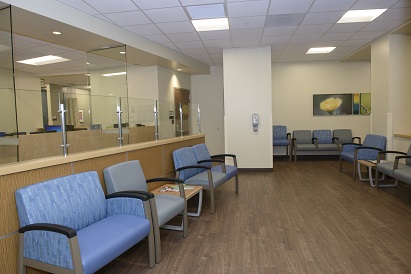 Banner - University Medical Center South professional staff includes the University of Arizona Department of Psychiatry faculty as well as advanced trainees in psychiatry and psychology.