Thu, 06/23/2022 - 11:00am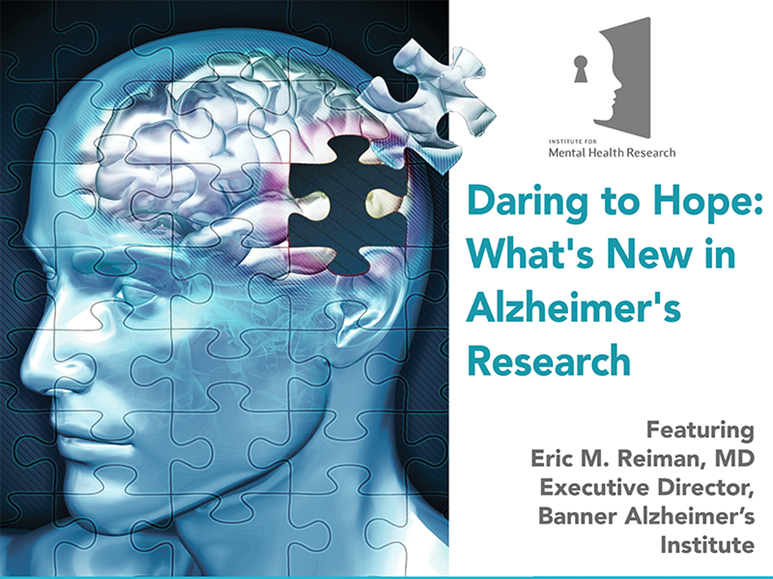 Join Institute for Mental Health Research for a discussion with Dr. Eric Reiman, Executive Director of the Banner Alzheimer's Institute, CEO of Banner Research, and Director of the Arizona Alzheimer's Consortium. A psychiatrist and world leader in Alzheimer's disease research, Dr. Reiman will provide a glimpse into his current work, including the effort to find an effective Alzheimer's prevention therapy in the next five years. 
Moderated by Dr. Keith Crnic, IMHR Chief Science Officer and former Head of the Department of Psychology, Arizona State University
This webinar will be of interest to those caring for loved ones with Alzheimer's, clinicians, researchers and academics, and all of us who worry about the future as we age.
Attendees will learn about:
Ongoing prevention trials, including those in the Alzheimer's Prevention Initiative
Where things stand regarding anti-amyloid drugs in the treatment and prevention of the disease 
How brain imaging techniques have contributed to study, diagnosis, treatment and prevention
The potential for blood tests to transform the Alzheimer's landscape
Attend the broadcast live, and interact in real time with the guest presenter during Q&A.