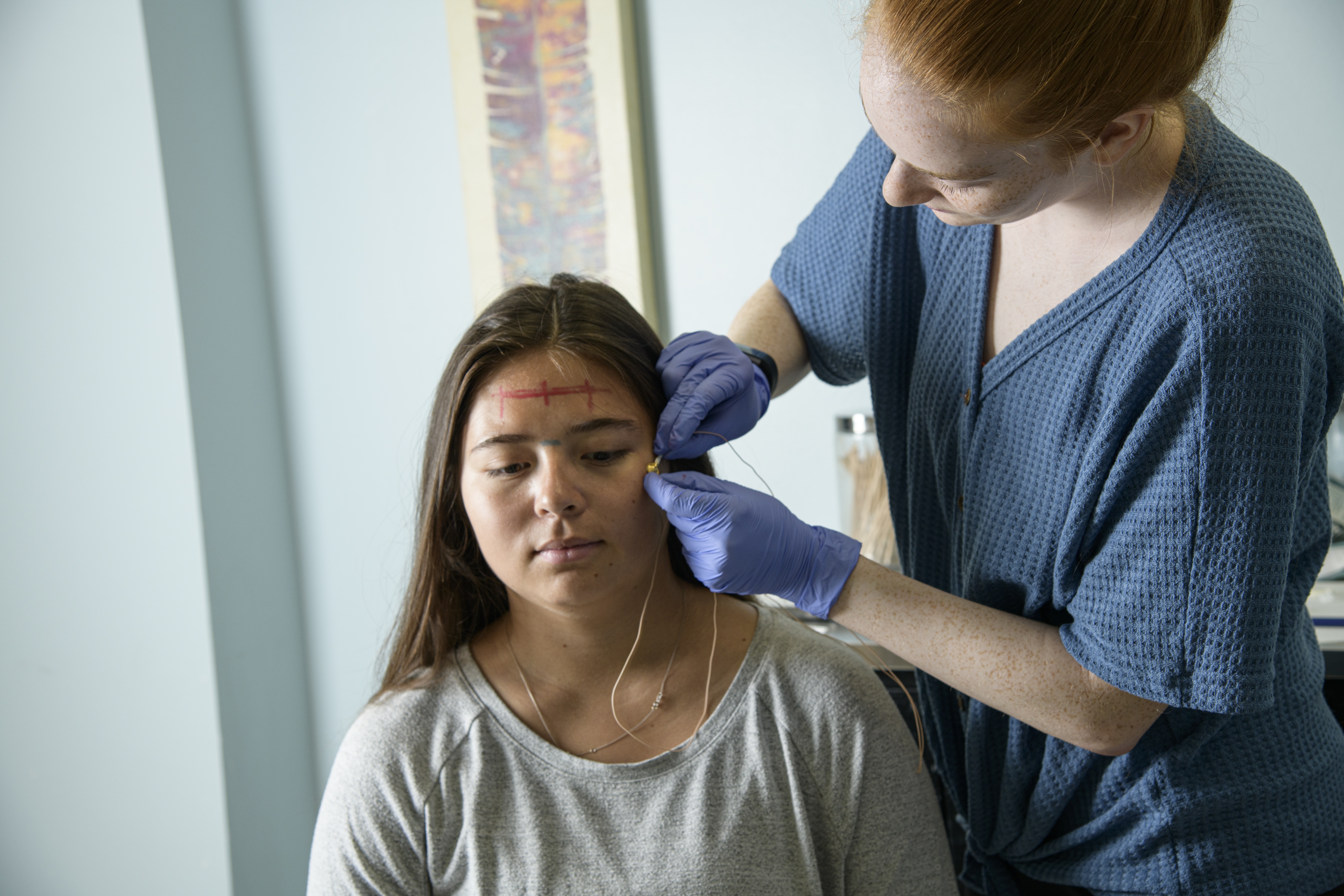 Research is a vital part of our department! We specialize in innovative, transdisciplinary work. We have several ongoing studies and invite you to read about some of them below. Please contact our research staff for more information. All research studies are completely voluntary.
Nogales Cardiometabolic Health and Sleep (NoCHeS) Study: This study is funded by the National Institute on Minority Health and Health Disparities of the National Institutes of Health (R01MD01160). This project aims to understand sleep health at the US-Mexico border, the social, behavioral, and environmental factors that play a role in sleep health in this region, and the impacts of sleep on risk for cardiovascular disease and diabetes. This study will enroll about 1,100 people from the Nogales, AZ area. This study is being conducted in partnership with the Mariposa Community Health Centers and the promotoras de salud program. Read more about this study. 
 

Investigational Test of a New Sleep Supplement (InTeNSS) Study: This study is funded by Kemin Industries. The overall goal of this study is to test a new nutritional ingredient (which could one day be used in supplements and foods) regarding its effects on sleep. Preliminary evidence suggests that this compound (which comes from spearmint) could improve sleep, but we are going to perform a study to see (1) what effects this has on sleep, and (2) how these effects are likely experienced. Find details on this study.

The Arizona/Nexalin Substance Use Recovery (ANSUR) Study: This study is funded by Nexalin Technology. This is a test of whether a device that emits an electrical current to the brain (currently in use to treat a wide variety of conditions) can improve the sleep and mental well-being of patients in a substance abuse treatment program. Often, these individuals have disturbed sleep, mood, and pain. This study tests whether this device can (1) improve sleep in these individuals, (2) improve other domains such as mood and pain, and (3) improve substance use outcomes. This study is currently underway.

Project REST: Recovery Enhancement and Sleep Training: This study is funded by the National Collegiate Athletics Association (NCAA). This project consists of a survey, to be completed by student athletes returning to campus, and a peer-driven sleep health program that will use education, tracking, and technology to potentially improve the health and well-being of student athletes through improved sleep.

Athlete Sleep Heart Screening Study: This study is funded by the Steven M. Gootter Foundation, a leading voice in preventing Sudden Cardiac Death. This project will include three parts, with the goal of better understanding links between sleep and SCD. During this study, we will partner with UA Athletics, who already performs screening electrocardiograms on all incoming athletes (who are a higher-risk group for cardiac abnormalities). We will add some sleep assessments to this protocol. Further, we will compare the sleep of those flagged with an abnormal reading and those that are not. Finally, we will expand our scope beyond athletes and examine relationships between sleep and traditional SCD risk factors in a very large population sample using CDC data.

Sleep and Healthy Activity, Diet, Environment, and Social Factors (SHADES Study): This study is funded by the National Institute of Environmental Health Sciences at the National Institutes of Health (R21ES022931). The overall aim of this study is to characterize the social, environmental, and behavioral determinants of habitual short sleep duration. This study includes (1) a population-based survey of the Philadelphia area, (2) geospatial mapping of survey data superimposed with existing neighborhood-level data, and (3) a 2-week in-depth home monitoring study. Data collection is ongoing. 
Obsessive-Compulsive Disorder (OCD) Study:
An experimental drug for OCD: The study seeks to explore the benefits of an experimental drug as a potential new treatment of obsessive-compulsive disorder (OCD).  The experimental drug changes activity in brain areas believed to be involved in OCD. This study will involve approximately 8-10 weeks of study participation, including eight weeks of investigational treatment.
Basic eligibility criteria: Ages 21 to 65 years old, must have moderate to severe Obsessive-Compulsive Disorder (OCD), must have failed at least one routine care treatment. Women who are pregnant or breastfeeding are not eligible. Please contact OCD@psychiatry.arizona.edu for additional eligibility information. This study is enrolling healthy volunteers.