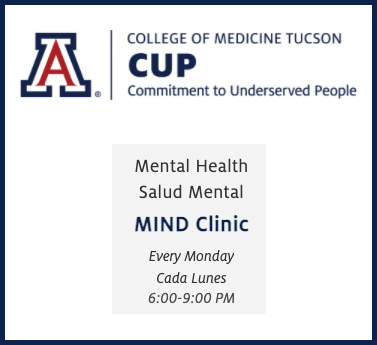 The University of Arizona College of Medicine-Tucson Commitment to Underserved People (CUP) Clinics Program is a co-curricular club of the University of Arizona College of Medicine Tucson that provides care to the Tucson community under the supervision of volunteer attending physicians. Medical students coordinate and provide culturally appropriate preventive care, primary care, referrals, immunizations, psychiatric evaluations and diagnostic tests to patients who have no other source of healthcare. 
Within the CUP program is the Mental Illness and Neuropsychiatric Disorder (MIND) Clinic. This clinic offers psychiatric care to patients without insurance. The clinic's operations - including scheduling, care delivery, coordination of care, and administration - are entirely performed by UA-COM medical students and board-certified volunteer psychiatrists. Patient visits with a team of medical students and an attending physiatrist are free of cost, and medication and therapy options offered to patients are all free or low cost. 
MIND Clinic offers psychiatric assessment and management to children and adults suffering from anxiety, depression, OCD, bipolar, schizophrenia, and other mental illnesses. Currently, substance use treatment is not available. Volunteer therapists have also allowed MIND Clinic to offer free regular psychotherapy for patients for multiple sessions. 
To schedule an appointment, please call (520) 428-4834 or fill out the form on this website.