Early Psychosis Intervention Center (EPICENTER)
Located at
Banner - University Medicine Whole Health Clinic
535 N. Wilmot Rd.
Suite 201
Tucson, AZ 85711
Appointment Phone: (520) 694-1234
EPICENTER Director: Patricia Harrison-Monroe, PhD
For more information about the program please contact Dr. Perez at 520-694-1784 or at Gustavo.Perez@bannerhealth.com
EPICENTER is a community mental health program offering specialized treatment for persons early in the course of a psychotic illness, such as Psychosis NOS, Schizophrenia, Schizoaffective, and Bipolar Disorder with Psychotic Features. Signs of these illnesses can include: trouble with reality testing, paranoia, hallucinations, delusions, disorganization, odd behavior or thinking, isolating, emotional changes, and difficulty with work or school. Our mission is to support our memebers, reduce the impact of early psychosis through symptom alleviation, and reintergration into their community. At EPICenter our members and their family have the oppurtunity to discuss their concerns, receive evidence based specific treatment, get help with educational and professional goals, and be part of a supportive community. 
How EPICENTER Can Help
As with physical illness, treatment early in the course of a mental illness, such as psychosis, can lead to better outcomes. The longer the illness is left untreated, the greater the disruption to the person's ability to meet the demands of transition into adulthood: school, work, meeting new people and becoming independent.   
EPICENTER aims to reduce the impact of early psychosis through symptom alleviation and reintegration back into the community. At EPICENTER, people have the opportunity to discuss their concerns, get practical support and participate in research studies.
Services
Clinical Evaluations & Assessments
Family Education & Support
Cognitive Behavioral, Individual & Group, Therapy
Medication Management
Cognitive Remediation
Supported Employment & Education
Community Education & Training
Benefits of Phase-Specific Care
The goal of specialized, phase-specific care is to maximize engagement and shorten the period of untreated psychosis.
By tailoring the interventions to this age group, we hope to facilitate greater community reintegration and return of previous functioning.
Eligibility
Individuals ages 15-35 who are early in the course of a psychotic illness and are willing to travel to EPICENTER for clinical services are eligible to participate. Additionally, individuals must have a family member who is willing to participate in the family education and support program.
 
Insurance
We accept AHCCCS and most private insurance plans. If you are uninsured, you can meet with one of our navigators to determine how you can access our services. 
Patricia Harrison-Monroe, PhD
Associate Professor of Psychiatry
Director of Early Psychosis Intervention Center (EPICenter)
Director of Community Outreach & Clinical Development. 

Dr. Harrison-Monroe's interests include forensic mental health, health disparities among at-risk populations, and the development of cultural competency among healthcare providers.  She provides clinical support services to students enrolled in the College of Medicine and also maintains a practice providing indivduals, couples, and family psychotherapy.  Dr. Harrison-Monroe holds a doctoral degree in clinical psychology from Columbia University, New York.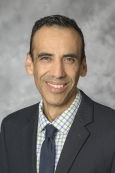 Gustavo Perez, PhD
Lead Psychologist at EPICenter
Clinical Assistant Professor of Psychiatry
Office:520-694-1784
email: Gustavo.Perez@bannerhealth.com