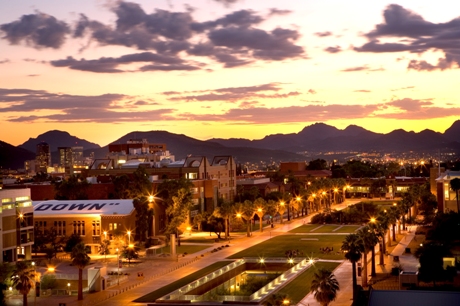 Nearly 360 days of sunshine, incredible sunsets, and mild winters — what more could you ask for in a city?
Tucson offers the best of both worlds — a vibrant city of one million people surrounded by the unsurpassable natural beauty of the Sonoran desert. Tucson has a wide variety of restaurants (some of the best Mexican food north of the border!), a strong performing arts community, a thriving music scene, and many sporting events, with the laid-back, relaxed lifestyle of a small town. Due to its unique blend of Native American, Spanish, Mexican-American, and Anglo-American influences, Tucson has a rich cultural heritage, apparent throughout the city's architecture, public art, music, and festivals. Check out this series of drone videos, aptly called Tucson is Awesome.
Uniquely Tucson
The Great Outdoors 
Biking Tucson is one of only eight cities in the U.S. to receive a gold rating or higher for friendliness to cycling from the League of American Bicyclists. With flat roads and many bike lanes, it is easy to bike around the city and some residents even bike to work. For serious cyclists, there are the annual El Tour de Tucson and Tour of the Tucson Mountains races, and trails abound for those who love mountain biking. There is also a Tucson bike share system through Tugo with 36 different locations to make your commute that much easier and healthier.
Climbing Mount Lemmon has more than 1,200 climbing routes, making it one of the most popular climbing locations in AZ. "Squeezing the Lemmon" by local author Eric Fazio-Richard is a favorite guide for climbers.
Hiking Tucson is a hiker's heaven with year-round hiking available and many trails only 30 minutes away (so you can even hike post-call!). Four mountain ranges surround Tucson—the Santa Catalinas, the Tucson Mountains, the Rincon Mountains, and the Santa Rita Mountains, all with a myriad of trails, from easy to strenuous.
Parks Tucson has over 120 national, state, county, and city parks, along with five public golf courses.
Sports
The University of Arizona Wildcats sports teams, especially men's and women's basketball and women's softball, are local and national favorites to watch. There's also local ice hockey if you want to take a break from the heat. In addition to attending sporting events, you can also participate in sports with multiple local leagues such as tennis and soccer. Tucson also boasts multiple large gyms, pools, and country clubs. There's also zip lining in Oro Valley north of the city and is one of the unique desert zip lines in the world, not to mention skydiving in Marana and Eloy - located between Tucson and Phoenix.
Music, Arts & Culture
Tucson has a thriving live music and eclectic arts scence, along with an award-winning performing arts community that encompasses theater, opera, ballet, and symphony. Tucson's various creative offerings are centered in the heart of downtown, but can be found valley-wide. The performing arts venues include the Tucson Music Hall, the Tucson Convention Center, and the Temple of Music and Art. Tucson's Arizona Theatre Company, the leading professional theater company in the state, has received national recognition. Its productions range from the classics to recent Broadway hits.

The award-winning Tucson Symphony Ochestra offers a nine-month season of classical music. The Arizona Opera makes Tucson its home, performing a standard repertoire along with less-frequently performed works. Dance lovers can see performances of Ballet Arizona, which is based in Tucson. The UA Presents series at The University of Arizona Centennial Hall brings a variety of performances and groups throughout the year.

Many contemporary art galleries and the Tucson Museum of Art are concentrated downtown.

The University of Arizona's Center for Creative Photography houses one of the most comprehensive photographic collections in the world, offers temporary exhibitions from its collections and elsewhere. The University of Arizona also offers the Arizona State Museum and the University of Arizona Museum of Art. The former of which has unique Southwestern artifacts and the latter displays art spanning the Renaissance to the 20th century.
De Grazia Gallery in the Sun is a unique gallery of local artist Ted De Grazia's Native-American and Southwest-influenced art.
Live Music can be found throughout the city seven nights at week! Tucson is knows for its triving local music scene, and is on the touring music circuit. In September and October, the Tucson Pops Orchestra offers "Pops in the Park," free weekly performances under the stars at Reid Park. During the summer, Cinema La Placita, an outdoor film series, takes place downtown. Year round, The Loft Cinema is a great venue for art films - independent, foreign, alternative and classic narrative films and documentaries.
Links to more downtown events:
Food
Tucson was named a UNESCO Creative City of Gastronomy in 2015 due to its unique focus on Sonoran food, sustainable food production, and encouraging healthy eating. Tucson not only excels with creative Mexican food options but also features French, Italian, Neo-American, Ethiopian and Southern cuisine. There is also an increasingly inspired and authentic Asian food scene including Thai, Vietnamese, Indian, Chinese, Korean, and Japanese food. From upscale dining to colorful food trucks, there is a lot to explore in this foodie's delight of a city. In addition, Tucson has many local bakeries and ice cream parlors for a sweet treat as well as a robust vegan and vegetarian restaurant scene. Downtown, 4th Avenue, and Main Gate Square each have a concentration of restaurants and are good places to start if you're new to the city in search of food. Tucson Foodie a local blog covering Tucson's food scene.
Shop/Fun
Tucson has many shopping malls including the upscale La Encantada mall, mall complexes such as El Con, and large indoor malls such as Tucson Mall and Park Place Mall. There's also an outlet mall in Marana, north of the city. Large multiplex theaters such as Century and AMC are also sprinkled across the city and include IMAX theaters. There is indoor recreational fun to be had at places like TopGolf, Cobra arcade bar in downtown, and Funtasticks Family Park. All major grocery and retail stores can also be found in Tucson. The downtown area has a vibrant but laidback nightlife scene and the Tucson street car offers a public transportation option to go between high traffic areas near downtown and the university.
Day/Weekend Trips 
There are plenty of great weekend getaways all within driving distance. The Phoenix metropolitan area is only a 1.5 to 2-hour drive from Tucson depending on which part of this urban sprawl you want to visit. Phoenix is the 5th largest metropolitan area in the country and probably has anything you can't find in Tucson including famous 5-star resorts for a quick getaway. Mexico is only 1 hour away—drive to border town Nogales for margaritas, authentic Mexican food, and great shopping for hand-made Mexican ceramics, tiles, and art. The closest beach to Tucson is actually in Mexico at Rocky Point, Mexico. It is about a 4 hour drive from Tucson and you can enjoy beaches, fresh seafood, and luxurious resorts for affordable prices.  
Other charming historic towns include:
Grand Canyon National Park
Antelope Canyon
Horseshoe Bend
Lake Havasu
Bisbee
Tubac
Tombstone
Sedona
Flagstaff
Within driving distance are also San Diego (6 hours), Los Angeles (7-8 hours), and Las Vegas (6 hours).
Tucson Airport has nonstop flights to cities such as San Francisco, Portland, Seattle, Dallas, Chicago, and Atlanta along with one-stop connections to international flights.
Places near by to visit:
Phoenix
Rocky Point or Puerto Penasco
Sedona
Flagstaff
For more information about Tucson, please visit www.visittucson.org.
Check out 45 Reasons to Move to Tucson!