Thu, 08/11/2022 - 12:00pm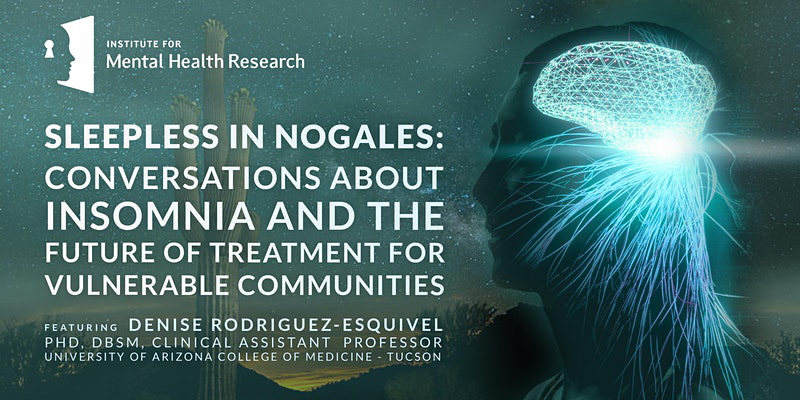 Having trouble sleeping? Insomnia is a serious issue that can dramatically affect mental and physical health. But what if the therapy that works best wasn't designed for you? As scientists continue to investigate solutions, one Arizona researcher is uncovering the need for cultural competence in insomnia treatment, and the work is likely to inform a whole new generation of interventions across multiple communities and peoples.
Denise Rodriguez Esquivel, PhD, DBSM is a clinical psychologist specializing in the treatment of insomnia and circadian rhythm disorders. She is Assistant Professor of Psychiatry at the University of Arizona, and the primary investigator on current study: Frontera/Awake: Conversations About Sleep with Spanish-speaking Residents of Nogales, Arizona. She is a board-certified expert in Behavioral Sleep Medicine at Banner University Medical Center Tucson. 
Get more details at the IMHR website, and register on the Event Bright page.
Topics of Discussion:
For all people across all communities, chronic insomnia is a common problem that can lead to physical and mental health problems if left untreated.
Although medication is often a first choice, the most effective and evidence-based treatment for insomnia is Cognitive Behavioral Therapy for Insomnia (CBT-I), a treatment that often achieves positive results in just 6-8 sessions. However, as is the case for many behavioral therapies, CBT-I was developed and tested on middle-class, English-speaking, European American populations.
The Frontera project is evaluating sleep needs along the US/Mexico border in Nogales with the ultimate goal of developing a culturally and linguistically-tailored version of CBT-I that will be well-received by Spanish-speaking Mexican Americans.
This work will inform future research and clinical approaches across cultures and previously ignored communities.
Moderated by Jordan F. Karp, MD, Department Chair and Professor of Psychiatry, College of Medicine, University of Arizona; Clinical Service Chief for Behavioral Medicine and Medical Director for Behavioral Health Technology, Banner University Medical Center and Group – Tucson.
Contact Info:
imhr_az@outlook.com // www.imhr.org