Tucson has a thriving live music and film scene. Tucson's various creative offerings are centered in the heart of downtown, but can be found valley wide.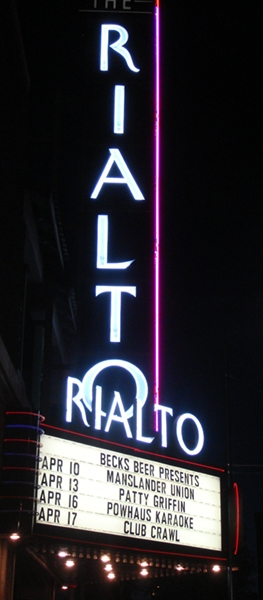 Film Year round, The Loft Cinema is the premiere venue for art films - independent, foreign, alternative and classic narrative films and documentaries. During the summer, Cinema La Placita, an outdoor film series, takes place downtown. We'd be remiss to not mention the historic Fox Tucson Theatre and The Screening Room! Add to that the numerous large multiplex theaters through out town such as Century and AMC that include IMAX theaters, along with special venues like Roadhouse Cinemas, and Exploded View. Tucson also hosts a bevy of film festivals including: Arizona International Film Festival, Tucson Film & Music Festival, Tucson International Jewish Film Festival, and many more!
Live Music can be enjoyed throughout the city seven nights a week! Known for its triving local music scene, Tucson is also on both the mainstream and indie touring music circuits. The best live music venues include: Rialto Theatre, Fox Tucson Theatre, Club Congress, 191 Toole, Monterey Court, La Cocina, Che's Lounge, AVA Amphitheatre, Solar Culture, Surly Wench Pub, Tucson Convention Center, and so many more! The Downtown Tucson Partnership, 4th Avenue, Main Gate Square and Mercado District all have robust websites that detail the great live music venues in their respective areas. Additionally, Tucson's community radion station, KXCI 91.3 FM is an excellent source of information on live shows, and plays local bands, indie rock, and a host of eclectic music you won't find on any other of Tucson's, or most cities', radio stations.
Media outlets that feature information on the local scene include: Arizona Daily Star's Caliente, KXCI 91.3 FM, Tucson Weekly, Tucson Sentinel, and Zocalo Magazine.