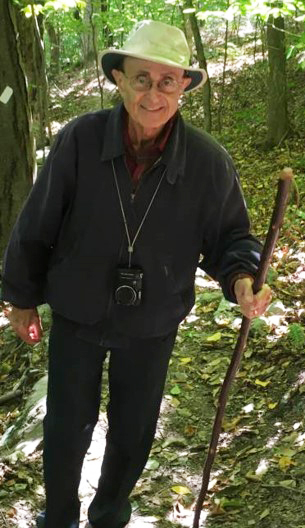 Dr. Racy passed away on September 14, 2022. He was 90 years old.
On the occasion of his 90th birthday earlier this year, John Racy's daughter Sumayya Granger bestowed him with an irreplaceable gift – a collection of warm, kind, and loving sentiments that mirrored Dr. Racy's shining spirit as an exceptional human, professor, psychiatrist, colleague, and mentor.
The assemblage of touching and humorous memories on his kudoboard is an emotional salve for a jarring loss. It was just three months ago that Dr. Racy retired as an Professor Emeritus after 44 years with the Department of Psychiatry. Reading through the heartfelt notes, it is evident that these warm wishes merely brush the surface of the impact he had on people's lives, in this world, on the Tucson community, in the Psychiatry Department, and on the College of Medicine-Tucson.
With over four decades of dedicated service in Tucson, his local roots run deep. His professional interests were in medical student education, couples therapy, and family therapy; he was the Director of Medical Student Education for 33 years and won numerous awards throughout his career, including:
Arizona Psychiatric Society Career Achievement in Psychiatry Award, 2020
Training Director's Award for Outstanding Contribution to Residency Education, University of Arizona Department of Psychiatry, 2010
Humanism in Medicine, University of Arizona College of Medicine, 2008
Howard E. Wulsin Excellence in Teaching Award, Arizona Psychiatric Society, 2007
Dean's List for Excellence in Teaching in the Basic Sciences, University of Arizona College of Medicine, 2006
Distinguished Life Fellow, American Psychiatric Association, 2003
The rewards of a life well-lived are more than a collection – though rightful honors they are – of awards. They are in the hearts and minds of those we touch, and in their expressions of gratitude and reflections. Below we share a beautifully scribed piece on Dr. Racy by Psychiatry's Vice Chair of Education Jason Curry, DO, that wonderfully captures Dr. Racy's essence. The following was originally published by the Arizona Psychiatric Society in its March 2021 spring newsletter.
"It is Dr. Racy's bookcase, behind his desk chair, captured in the frame of the computer camera during Zoom meetings. His bookcase does not hold many items, but it speaks volumes of this prolific psychiatrist.
I have known John Racy for many years. He was (and continues to be) one of my seminal teachers in the field of psychiatry. As professor in the Department of Psychiatry at the University of Arizona College of Medicine-Tucson, Dr. Racy for the past 43 years has been an inspirational guide to many medical students and physicians in training.
Educated and trained in Beirut in the 1950s – graduate of the American University of Beirut – John has held a medical license for more than 50 years. John's career has intersected with countless lives offering kindness, expertise, and service, particularly in the areas of psychiatric education, transcultural psychiatry, the integration of psychotherapy and pharmacotherapy, family and marital therapy, and sexual disorders.
Attempting to point through the cavalcade of achievements that is John's career would demonstrate the deserving nature of his recent awarding of Arizona Psychiatric Society's Lifetime Achievement Award. Yet, such a list would not illuminate the reader to John's serene and generative nature. There are those surrounded by an aura of warmth and wisdom that draw out from others the wide-eyed curiosity of a child in play. This is what it is to engage with John Racy. It is serene and playful.
On numerous occasions, I have seen John transfix an audience. He is thoughtful in his words, deep in his listening, and always generous with his smile. I fondly recall to November 2016, seated in a lecture hall at the UofA, as John delivered a stirring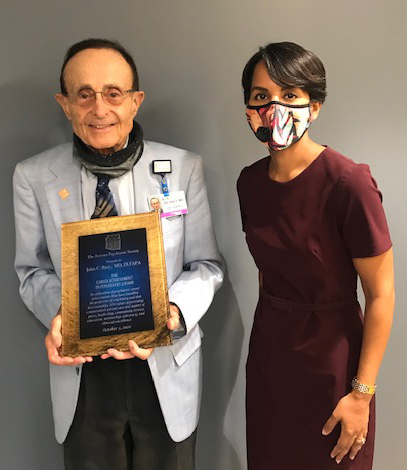 Grand Rounds entitled, 'Discipling Intimacy – Personal Reflections on Psychotherapy in Psychiatry.' John read aloud from a letter. His reading was steady and earth-stilling. The presentation was an admixture of his observations through six decades in medical practice and his reverence for psychiatrists, 'conditioning their capacity for human intimacy to instill hope and meet expectations of relief.'
It was one of three times that I have seen a grand rounds or keynote lecture at any venue end in a standing ovation. On further reflection, it is the only time following our department's Grand Rounds that I have seen a line form at the lectern with people waiting to ask more questions after the Q&A session had already completed.
Perhaps it is memories like this that cause me pause when looking at the bookcase of this revered figure. With such an expansive and illustrative career, one might assume that Dr. Racy's bookcase is littered with his many awards or ladened with psychiatric texts or brimming with the baubles of an internationally traveled man. However, the bookcase is modest and orderly.
The top shelf has a copper framed clock whose large face is turned not to the desk but to the place that John's patients would sit in the office. No other item is on the top shelf. It is a signal to the patient that this warm and comfortable space was designed for them, and, in the time that they have together, the patient rests at the pinnacle of John's concern.
The next shelf below has a small collection of books. They appear at the bindings to be well-read and well-loved. The shelf is three feet wide, and the books cover only half the expanse.
Below the shelf with books is a shelf completely utilitarian. This shelf is the resting place for John's necessary implements and information being actively studied. It is covered with small piles of neatly ordered articles, journals, and readings. A place to hold a work bag. A place to reach for an extra box of tissues when the two opened boxes in the office have been exhausted.
Underneath the utilitarian shelf is a shelf with treasured items. Aside a small glass figurine, two photograph calendars from 2019 and 2020 are sitting open. Unlike the clock on the top shelf, the faces of these calendars are turned toward the desk. The photographs contained within feature John's bright-eyed, talented grandchildren. I imagine, throughout his workday, John steals grateful glances at their smiling faces.
The bottom shelf at ground level is empty. Perhaps another utilitarian approach; perhaps it is emblematic of the importance to stay open, to make space, to welcome opportunity. The way we arrange the world around us is the way we have arranged the world within us. This is why one can sit facing Dr. John Racy's bookcase and see how he honors his patients, how he seeks to alleviate burden through the sharing of knowledge and generous acts, and how he makes room for the needs of others."
Dr. Racy was a beloved family man, physician, teacher, colleague, and friend. We will miss him terribly. No service has been planned at this time, but in lieu of flowers, donations in his honor to Arizona Public Media would be appreciated.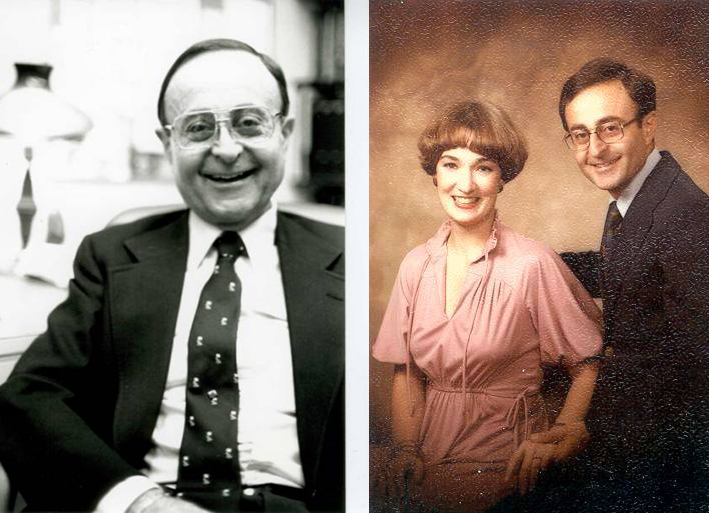 Resources:
Support is available through UArizona Counseling and Psych Services or Employee Assistance Counseling, and resources for medical students, residents, fellows and physicians are also available through College of Medicine – Tucson Mental Health Services, and fast-track appointments can be scheduled by calling 520-874-7500 or visiting the Banner Outpatient Psychiatry website.
Banner – University Medicine provides mental health support resources including onsite, virtual and one-on-one. Call 1-800-243-5240 for more information. On-campus resources are available through Banner Health's employee assistance program, 1-866-568-7554, or www.resourcesforliving.com using username Banner and password EAP. Video or text visits are also available at www.talkspace.com/rfl.