Tucson has many locally-owned shops that feature one-of-a-kind and locally-crafted gifts, along with recereational fun for adults and families alike!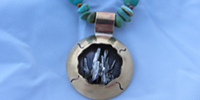 Check out the Downtown Tucson Partnership, 4th Avenue, Main Gate Square, Mercado District, and VisitTucson.org websites to discover some of those locales. 
The Tucson Streetcar offers a delightful and efficient public transportation option that connects the highly travelled areas between Downtown, 4th Avenue, and the University.
There are also a variety of shopping malls including the upscale La Encantada, complexes such as El Con, and the large indoor Tucson Mall and Park Place Mall, along with an outlet mall in Marana, north of the city. 
Recreational fun can be had at places like Golf 'n' Stuff, TopGolf, Cobra Arcade Bar, and Funtasticks Family Park. All major grocery and retail stores are available in Tucson.