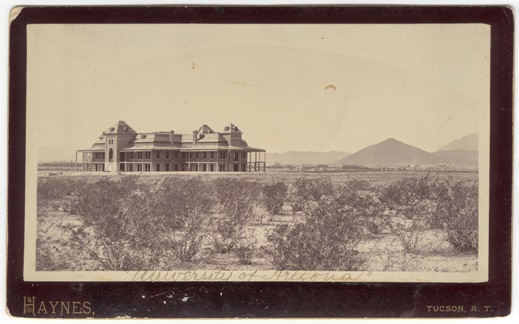 Founded in 1885 by an act of the Territorial Legislature, The University of Arizona (UArizona) was created with an appropriation of $25,000, but no land. Neither the city nor the county cared to provide the land because they were disappointed with their "prize" from the Legislature. They would have preferred to become home to the state capital, the prison, or even the state hospital--anything but the University. In fact, Phoenix had just been awarded a mental health institution for $100,000. Just before the money was returned to the Legislature, however, two gamblers and a saloon-keeper donated land "way out east of town" and the University officially began. Consider that at that time, the Arizona Territory had no high school and few elementary schools even.
Today, UArizona is one of the top 20 public research institutions in the nation, with more than 38,000 students and over 11,000 faculty/staff on a 387-acre campus near the geographical center of Tucson. In its second century of service, it offers degrees in more than 300 fields of study. In 2009, the UArizona received $530 million in research awards.
As a land-grant institution, UArizona has a three-fold mission of teaching, research, and public service. It is one of only 62 members in the Association of American Universities, a prestigious organization that recognizes universities with exceptionally strong research and academic programs. A member of the Pacific 10 Athletic Conference since 1978, UArizona competes in 18 intercollegiate sports.
The University of Arizona Health Sciences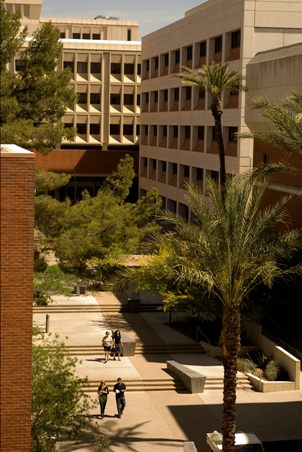 The University of Arizona Health Sciences (UAHS) includes the University of Arizona College of Medicine, Tucson program; the University of Arizona College of Medicine' Phoenix at the Phoenix Biomedical Campus in downtown Phoenix; the UArizona College of Nursing; the UArizona College of Pharmacy; the UArizona Mel and Enid Zuckerman College of Public Health; University Medical Center; University Physicians Healthcare; and the Arizona Cancer Center.
It is accredited by the Joint Commission on Accreditation of Healthcare Organizations.
Most of these entities are located on about 48 acres of the UArizona campus in Tucson, Arizona. AHSC enrolls 542 medical students in Tucson and Phoenix (including 35 dual-degree students); more than 530 undergraduate, graduate and post-graduate nursing students; more than 430 PharmD and graduate-level students in the pharmaceutical sciences; and 360 undergraduate and graduate public health students. A major economic engine for the state of Arizona, UAHS garnered almost $128 million in research grants and contracts in FY08.
The UAHS Library maintains a collection of 165,000 volumes and 3,500 journals. The library is open 24 hours every day, except Christmas and New Year's Day.