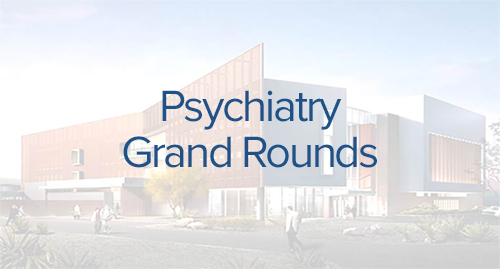 Our Grand Rounds and Chairman Grand Rounds are live recorded and generally can be viewed here.  
June 6, 2018 - Beyond Dysphoria: Gender, Gender Identity, and Mental Health
Sean Tai, DO
May 30, 2018 - Youth Behind Bars: What Incarceration does to Adolescents and how Psychiatry and Psychology can impact Juvenile Justice Reform
Gustavo Perez, PhD
May 23, 2018 - Neural Dynamics Important for Executive Functions are Disrupted by Sports-Related Concussion
Ezra Smith, MA 
Forced Immigration: Assimilation Experiences and Psychological Well-being of Iranian Immigrants- Post Islamic Revolution
Brynna Farbod, MA
May 16, 2018 - Telemental Health: Working with Youth on the Navajo Reservation
Joanna Katsanis, PhD
Associate Professor, Clinical Psychiatry and Psychology 
The University of Arizona College of Medicine
May 9, 2018 - How to Transition Gender Non-Conforming and Transgender Adolescent; The Psychiatrist Role
Karnika V. Patel, MD 
Transgender & Gender Non-Conforming Pre-Pubescent Youth: Understanding the Basics
Julia Chung, DO
May 2, 2018 - Arizona's Jail Competency to Stand Trial Evaluation and Restoration Programs
Joseph D. Bloom, MD
Clinical Professor of Psychiatry
University of Arizona- Phoenix
April 25, 2018 - Temperament and Parenting: Does Fit Matter?
Sydney Iverson, MS 
Recognizing Effects of Developmental Trauma
Kristin Becker, DO
April 4, 2018 - Free Will? Maybe. Then What?
Irfan Fauq, MD 
March 28, 2018 - Chairman's Grand Rounds: Functional Capacity Assessment of Adults Diagnosed with Psychosis
Tamara Welikson, MA
Clinical Psychology Intern, Early Psychosis Intervention Center (EPICenter) 
Banner - University Whole Health Clinic

Neeraj Chauhan, DO
PGY-IV Resident, Psychiatry
University of Arizona College of Medicine
March 14, 2018 - The Neuroscience of Resilience
Noshene Ranjbar, MD
Assistant Professor of Psychiatry 
Director of Child and Adolescent Clinic and Integrative Psychiatry Clinic, UA

Justin Otis, MD
Chief Resident, PGY-IV Resident, UA
February 28, 2018 - The Zen and Tao of Psychiatry: Perspectives on Perspectives
Brandon Yates, MD
February 7, 2018 - Integrating Community and Correctional Psychiatry
Vicki S. Knight, MD
January 31, 2018 - Electronic Medical Records from a Litigator's Perspective: Pitfalls, Complications, and the Effect of EMR on Medical Liability Claims
Michael L. Linton, MD
January 17, 2018 - NAMI Southern Arizona Programs
H. Clark Romans, PhD
Executive Director, NAMI
November 29, 2017 - Burnout in Medical Education: What Are The Costs And How Can We Improve?
Melissa Piasecki, MD
November 8, 2017 - Substance Use Disorders in Geriatric Patients
Ole J. Thienhaus, MD
Psych Professor and Chair, Department of Psychiatry, UA
October 25, 2017 - Quality Improvement in Community Behavioral Health: Or Be The Change You Want to See in The World
Margie Balfour, MD, PhD
Chief Clinical Officer, Crisis Response Center;
VP For Clinical Innovation
October 18, 2017 - Gratitude and Subjective Wellbeing: A Proposal of Two Causal Models
Anna Alkozei, PhD
September 27, 2017 - Memory Reconsolidation, Emotional Arousal and the Process of Change in Psychotherapy: New Insights from Brain Science
Richard D. Lane, MD, PhD
Professor of Psychiatry, Professor of Psychology, Professor of Neuroscience
September 20, 2017 - Population Health Management
Bradley K. McKinney, MPH, LMSW, CPHQ
September 13, 2017 - Neuroimaging of the Aging Brain: Implications for Successful Aging and the Risk for Alzheimer's Disease
Gene E. Alexander, PhD
Professor, Department of Psychology 
University of Arizona, Tucson, Arizona
September 6, 2017 - Neuroprogression and Functional Impairment in Bipolar Disorder
Jasleen Chhatwal, MD
Chief Resident, Psychiatry, UA