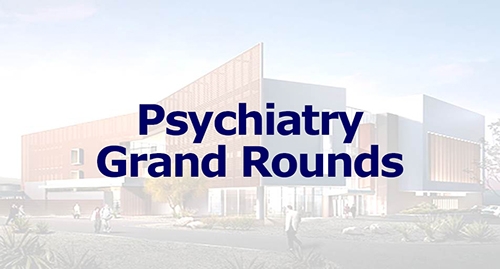 Our Grand Rounds and Chairman Grand Rounds are live recorded and generally can be viewed here.  
June 5, 2019 - PGY4 Trainee Presentations
Shame & Shame Resilience, Kathryn Emerick, MD 
The Exercise Prescription, Zach Emel, DO
May 29, 2019 - Mixed Up About Mixed Features
Jasleen Chhatwal, MD
Assistant Professor, Psychiatry
May 22, 2019 - PGY4 Trainee Presentations
Psychiatric Manifestations of Latent Toxoplasma Gondii Infection, Amy Hu, MD 
CBTi-The Nuts & Bolts, Justin Stiller, DO
May 15, 2019 - Genetics of Behavioral Health and Neurodevelopment
Maureen Kelly Galindo, MS, RN, AGN-BC
May 8, 2019 - What's so Differnet about Military Life?
Justyna T. Wadolowski Maj, USAF, MC
May 1, 2019 - Undue Influence: The Crimes of Persuasion and Coercion
Tyler Dowling, MD, Forensic Fellow
April 24, 2019 - Internal Family Systems
Dick Schwartz, PhD
April 17, 2019 - Longitudinal Evaluation of Functional and Clinical Outcomes in Clinical High-risk for Psychosis with and without a History of ADHD and Stimulant Exposure
Sabrina Ereshefsky, MA, Clinical Psychology Intern
April 3, 2019 - Disclosure as a "Kiss of Death": When Sharing Your Journey Leaves Your Future in Balance
Amanda Lynn Zold, MS, Clinical Psychology Intern
March 20, 2019 - Breastfeeding and Women's Mental Health
Julie Demetree, MD
March 13, 2019 - Sleep Loss, Cognitive Impairment, and Individual Differences: Implications for Psychiatric Disorders
Brieann Satterfield, PhD
February 20, 2019 - Clinical and Sport Psychology Services: Innovative Approaches to Working with Collegiate Student Athletes
Amy Athey PsyD, CPMC
February 6, 2019 - Neurocircuitry of the Amygdala: Implications for Pathophysiology of Psychiatric Conditions
Eric Taylor, MD
January 30, 2019 - Treatment Resistant Schizophrenia & ECT 
Leslie Hernandez, MD
Jasmine Singh, MD
January 23, 2019 - Approaches to Pain Management in the Behavioral Health Setting
Carie Baumann, FNP-C
January 16, 2019 - Adolescent Suicidality: Not Just Who but When
Chad McWhinnie, PhD, Clinical Assistant Professor of Psychiatry, Child
January 9, 2019 - Telepsychiatry: Scope, practices and implications across models of care
Ujjwal Ramtekkar, MD, MBA, MPE, FAACAP
December 19, 2018 - The Humor in Psychiatry
Tarang Srivastava, MD
Not Sold In Stores: Sex Trafficking and Healthcare Interventions
Heidi Stapley, DO
November 28, 2018 - Prevention of Major Depressive Disorder
Matthew Erisman, MD 
Acceptance and Commitment Therapy
Jack McClane, DO
November 14, 2018 - What is PANS? What is known and what is not known, and what can we do?
Peter Klinger, MD
November 7, 2018 - Diagnosing Bipolar - Beyond the DSM-5
William Gordon, PNP
October 31, 2018 - Creating a Healthy Habitat by Offering Homes, Community, and Hope
Mr. T. VanHook
October 24, 2018 - Transient Global Amnesia
Sadia Ghani, MD
October 17, 2018 - Neuro Law & Juvenile Justice
Sutapa Dube, MD 
September 26, 2018 - Faculty Meeting 
 
September 19, 2018 - Opioid Use Disorder
 
September 12, 2018 - Evidence-based Crisis Interventions for Children Who Have Experienced Trauma
Michael L. Sulkowski, PhD