The Clinical Psychology Internship is a one-year, fully accredited program that embraces a scientist-practitioner model. Our mission is to prepare a skilled healthcare workforce that is trained in and employs evidence-based techniques to deliver superior patient care. Our didactic and experiential training activities assure trainee competencies in behavioral health, and its integration into primary care.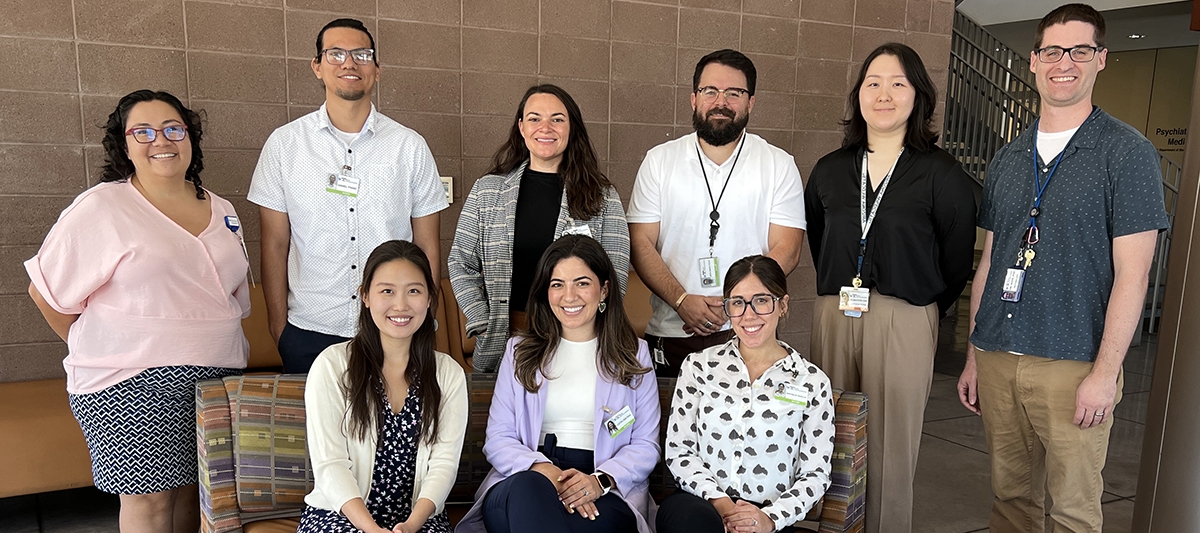 We are funded by the Health Resources and Services Administration Behavioral Health Workforce Education and Training grant and are committed to training interns in culturally informed clinical care by providing opportunities to serve vulnerable, underserved patient populations that are culturally and linguistically diverse. This program works in conjunction with the UArizona College of Nursing's faculty and its psychiatric nurse practitioner doctoral students. Learn more about the grant. 
Through this program, interns will develop and refine their skills in psychological assessment, evaluation, and psychotherapeutic interventions. Graduates are prepared to work effectively in interprofessional settings and provide interdisciplinary, team-based, and trauma-informed care. Additionally, interns are equipped to serve rural, border, child, adolescent, and transitional age youth in medically underserved communities.
The program's training goals and methods are based on five core commitments:
Science-based psychological practices
Quality training in broad clinical skills across the life span to assure readiness to begin independent practice
Quality training in interdisciplinary and integrated mental health care sites of high need/high demand areas
Service to culturally and linguistically diverse and underserved populations
Service in an inter-professional environment, bringing forth the competencies of a health service psychologist to health organizations including community agencies, outpatient clinics, and inpatient settings
We welcome candidates from diverse backgrounds, including those historically underrepresented in psychology. If you have personal and/or professional experiences relating to diversity and culturally informed care, please include a brief statement describing this in your cover letter.
The internship begins on July 1 and ends on June 30 of each year.
Core Skills & Abilities
At the end of the internship year, interns will be confident to work with mental health issues across the life span. Our program advances the professional and personal development of interns as competent clinical psychologists by assuring the acquisition of core competencies including:
Prepare interns for the effective, independent, and ethical practice of professional psychology​.
Develop advanced knowledge in diagnostic interviewing, crisis intervention, and psychological assessment.
Develop skills in interprofessional collaboration, team-based integrated care, and trauma-informed care.
Understand the indications for psychotropic medications and other somatic interventions and be able to apply this knowledge in their clinical work with patients.
Learn the dynamic interplay of biological, psychological, and social factors and the multitude of ways they interact to affect illness, resilience, and overall health.
Interns conduct comprehensive evaluations of individuals across the age span with a broad range of psychopathology (e.g., mood disorders, psychotic-spectrum disorders, neurodevelopmental and neurodegenerative disorders, and anxiety disorders) and varying socio-cultural and ethnic backgrounds. They gain competence in major treatment modalities; learn the knowledge and skills to practice within a variety of mental health settings; have the opportunity to teach professionals in other disciplines (psychiatry, medicine, and pediatrics), families, and members of community agencies; become familiar with research methodology and professional/scientific literature on evidence-based clinical intervention; and learn to participate effectively as leaders within multidisciplinary teams.